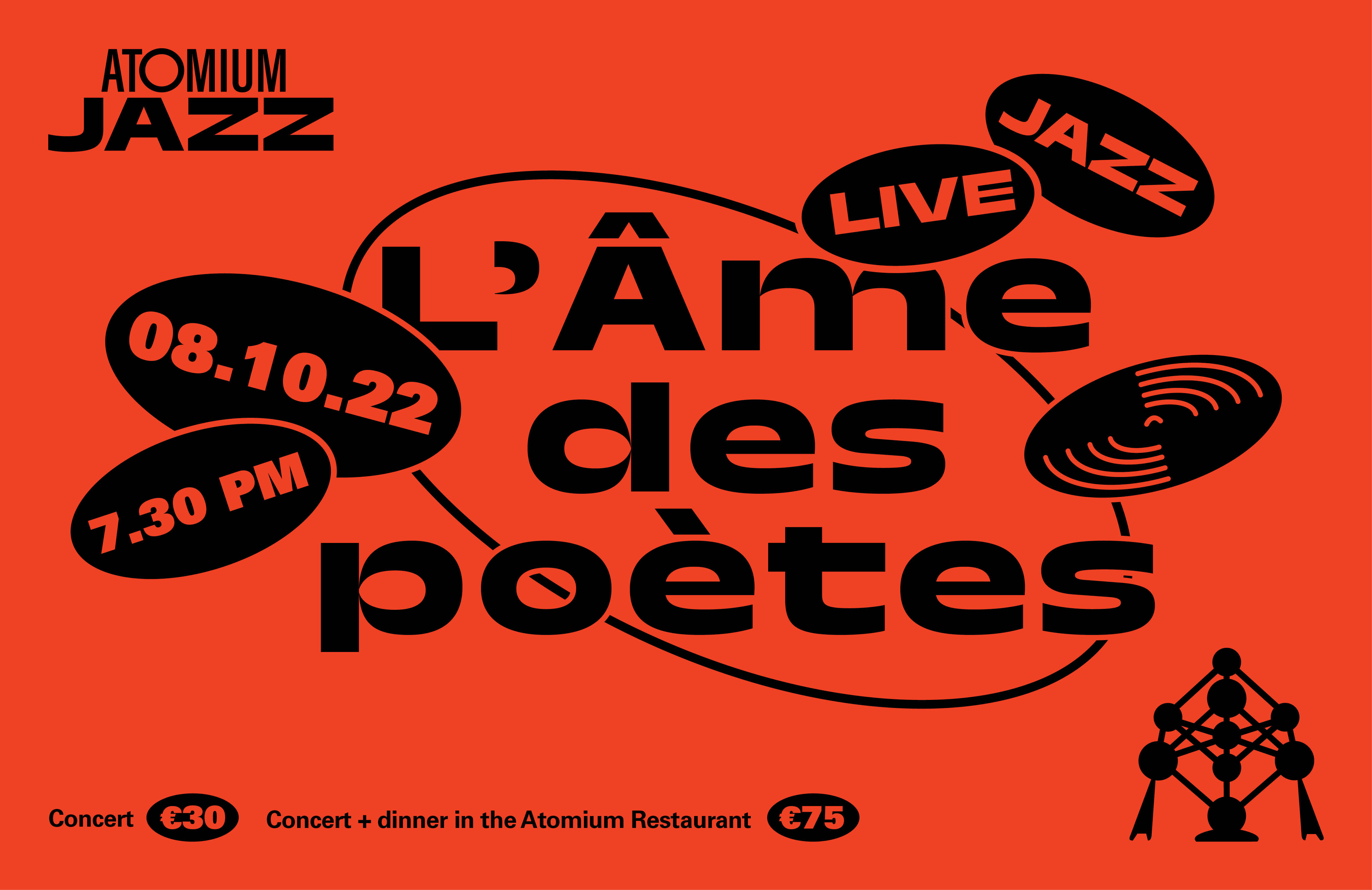 L'âme des poètes
Jazz concert at the Atomium
Curated by Thomas Champagne
08/10/2022
Jean-Louis Rassinfosse – double bass
Pierre Vaiana – soprano saxophone
Fabien Degryse - acoustic guitar

The Atomium invites you to come and discover its "Atomium Jazz" concerts in the magnificent Ilya Prigogine room, a lateral sphere with a breathtaking view of Brussels!
The Atomium Jazz concert series continues with the group 'L'Âme des Poètes' composed of three top jazz musicians: Jean- Louis Rassinfosse (octave d'honneur 2019) and his devastating humor on double bass, Pierre Vaiana on soprano saxophone (Django d'Or 2009) and Fabien Degryse (nominated for the octaves 2018 - jazz category) on acoustic guitar. Since 1992, this exceptional trio has been exploring the repertoire of the great French chanson standards to deliver instrumental versions full of emotions, creativity and humor.
In concert, from the very first song, the contact is established, the public and musicians embark on a musical journey that combines humor and emotions in an inimitable way in a unique connivance between the public and the artists. Jean-Louis Rassinfosse, a great lover of puns, intervenes between the music tracks to present them to us. The rhythm accelerates as the presentations are made until it reaches a hallucinatory rate, which devastates everything and makes the stunned audience collapse with laughter. So, between laughter and deep emotion, between memories of the songs and discovery of the treatment that the trio applies to them, the public leaves this concert delighted, enchanted and happy.
Conclude the concert with a drink, a bar will be available in the concert room!


More info coming soon. Be the first to know, subscribe to our newsletter


Practical information
Location
Atomiumplein 1 - 1020 Brussels, Belgium
Date of the event
08.10.22
Time
19:30 - 20:45 (concert) | 21:00 (optional diner)


Entrance fees
Concert : 30 €
Concert and dinner at Atomium Restaurant : 75€ (3 courses + glass of champagne included)

Also see