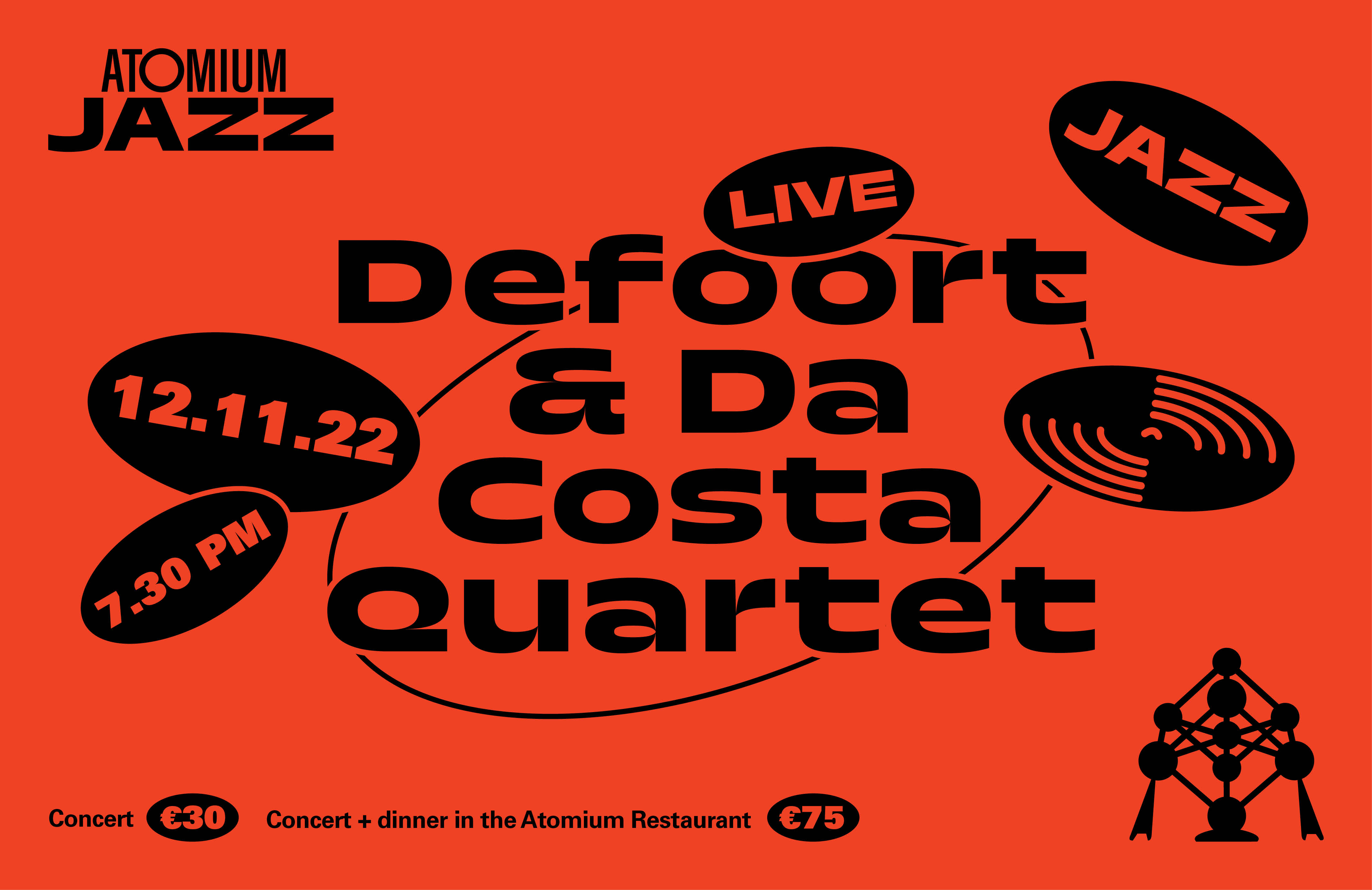 Defoort & Da Costa Quartet
Jazz concert at the Atomium
Curated by Thomas Champagne
12/11/2022
Bart Defoort - Tenor Sax
Victor Da Costa - GuitarV
Victor Foulon - Double bass
Armando Luongo - Drums

The Atomium invites you to discover its "Atomium Jazz" concerts in the magnificent Ilya Prigogine room, a lateral sphere with a breathtaking view of Brussels!

This third edition will show the group «Defoort & Da Costa Quartet ». Bart Defoort and Victor Da Costa have been playing together very regularly for 20 years. With their quartet, they bring a mix of personal arrangements of "gems" from the rich jazz repertoire complemented by their own compositions. The atmosphere of the golden age of "bop" and "modal" jazz from the 1950s-60s is never far away, without falling into a form of nostalgia. Together with Victor Foulon and Armando Luongo, one of the best rhythm sections of the new generation of jazz musicians, they have formed a tight quartet since 2018, with a very own warm, swinging and exciting sound. The musical interaction and communication between these 4 top musicians is very creative and natural.... A great pleasure to listen to and experience.


BART DEFOORT
Bart Defoort has recorded 5 CD's under his name since 1997 and has played at the Liège Festival, Jazz Middelheim and Gent Jazz. He is also a member of the Brussels Jazz Orchestra since its creation in 1993. He has recorded 15 CD's with the BJO and performed in dozens of concerts all over Europe, the United States and South Africa. Bart Defoort has a very warm and personal sound, with a melodic language inspired by Dexter Gordon, Hank Mobley, Sonny Rollins, John Coltrane or Gene Ammons. He teaches saxophone at the Conservatory of Ghent.

VICTOR DA COSTA (Brazil)
Victor Da Costa has recorded with his trio and with his band "Caçamba". He also worked with Philip Cathérine "Guitar Orchestra", Steve Houben and Marcia Maria. Victor Da Costa has a very fluid and melodic style, inspired by the great guitarists such as Jim Hall, Wes Montgomery, or Jimmy Raney. He is a guitar teacher at the Brussels Conservatory.
End the concert with a drink, a bar will be available in the panoramic sphere with a breathtaking view over Brussels!


More info coming soon. Be the first to know, subscribe to our newsletter


Practical information
Location
Atomiumplein 1 - 1020 Brussels, Belgium
Date of the event
12.11.22
Time
19:30 - 20:45 (concert) | 21:00 (optional diner)


Entrance fees
Concert : 30 €
Concert and dinner at Atomium Restaurant : 75€ (3 courses + glass of champagne included)

Also see